Recap of The Well-Being of Watertown Youth: A Town Hall Meeting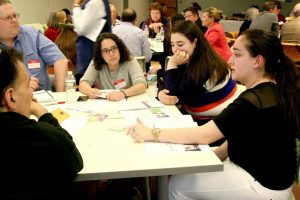 Thank you to everyone who came out to our Town Hall event on April 27th and helped make it such a success!
Check out the WYC Town Hall Notes to see ideas people had about what is already happening and what else can be done in Watertown to support the well-being of our youth.
See more photos of the event on the Watertown Youth Coalition Facebook page.
Here is some of the news coverage of the event:
WCA-TV: Youth Coalition Town Hall Watch>>
Wicked Local: Drug use at schools drops, remains above state average Read>>
Watertown News: Survey Finds Most WHS Students Drink, Many Use Marijuana and Some Use Heroin Read>>
The Well-Being of Watertown Youth Report is also available on our website – take a look!