The Search for Social Justice
I've been looking for a local social justice organization for a long time. In 8th grade, I had really become interested in social justice while working on a large end-of-the-year school project with one of my friends. Since both of us identified as LGBTQ+ and were testing out more masculine forms of expression at the time, we had decided to make our project about the current state of LGBTQ+ youth, specifically trans youth, in Massachusetts schools. Both of us were nervous and dressed up in full rainbow bow ties and suspenders, determined to shed light on the issue even if we might not win the presentation competition. We didn't win, but we surprised ourselves when we made it to the final round. That was the first time I felt the righteous relevance of social justice. It wasn't something that I could just walk away from.
Social justice is a string of opportunities, with missed or badly handled opportunities bringing about renewed reason for its existence in the first place. I have had to let go of several missed opportunities, as everyone does, to continue toward a larger goal. I am often concerned that by letting many opportunities go, others would see me as having little regard for social justice, when in reality I have only recently learned not to hang onto projects that don't pan out. In 8th grade, this was my friend and I being unable to convince the middle school to host a speaker to educate students about LGBTQ+ identities and social issues after our PFLAG offer was deemed 'too expensive.' In high school, this was quietly approaching the president of the Gender and Sexuality Alliance and suggesting things for his consideration throughout all of 9th grade.
In 10th grade, I became GSA president, with an ambitious plan and falling levels of morale. My proudest achievements were creating a GSA survey of the LGBTQ+ climate of the high school and giving a presentation about trans students and trans issues to the school faculty at a staff meeting after school. The survey's reflection of the school climate was largely what I thought and feared it would be. The one thing that did surprise me was the amount of LGBTQ+ people at the school according to the survey, which was much higher than our usual single digit attendance rate at GSA meetings. It was interesting for me to witness the GSA's reaction to the survey as a group, which was much more satisfied and upbeat than my own internal unrest about the survey results confirming several of my unvoiced fears.
In 11th grade, I gave another, similar presentation to a smaller audience of faculty and students and witnessed an all time low in group morale within the GSA and the school itself. I started to feel more and more divided off from the rest of the GSA members and I felt unable to talk about why I felt that way. I became frustrated, feeling that the structure and seriousness about social justice within the school that the club had in previous years was no longer there, and decided to concentrate my efforts elsewhere. The GSA became more of a self-proclaimed social club, the Social Action club at the high school was not yet fully fledged, and I was intent on finding new options for a social justice outlet.
In my freshman year of high school, I first became aware of the Watertown Youth Coalition Peer Leaders when I saw a table of recruiters in the cafeteria one day. I wanted to join, but the notion of 'representing your peers' was something I have had a complex about for a very long time. I didn't see myself as the average person and didn't think many of my peers would want my opinion, so I let the opportunity go until this year. When I went to the WYC Town Hall meeting at the library I finally realized that this group was serious and that the popularity aspect I had feared was virtually irrelevant. Now I am very happy that I joined the Peer Leaders. Having the space and people to talk about local and global social justice issues is a welcomed break from the shallow mediocracy of the high school mainstream.
I love the context of the Watertown Youth Coalition because as an organization it doesn't shy away from relevant conversations even if they are considered "difficult" conversations. There are so many social situations where groups of people are erased or forgotten because of general ignorance or societal ideas of convenience, and I love how WYC is dedicated to creating spaces and spreading awareness where it's needed. From the Peer Leader meetings that I've attended, I really appreciate the inter-dimensionality and honesty of the discussion that tends to be withheld in day to day high school life. I've learned a lot so far, in the short period of time that I have been a Peer Leader, and I hope to learn even more during my internship with WYC and Wayside Multi this summer. Even in my first week as an intern, I appreciate the inclusive, helpful, and accommodating nature of the Wayside Multi-Service Center, and I am happy to be working here this summer.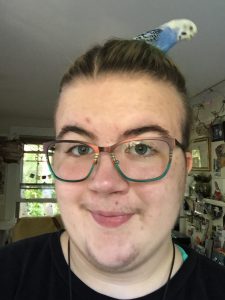 ---
Phen Sarles is a WYC Peer Leader and a rising senior at Watertown High School. He is interning with WYC and Wayside Multi this summer thanks to Watertown Community Foundation's summer internship program.