Adventures at Youth to Youth 2018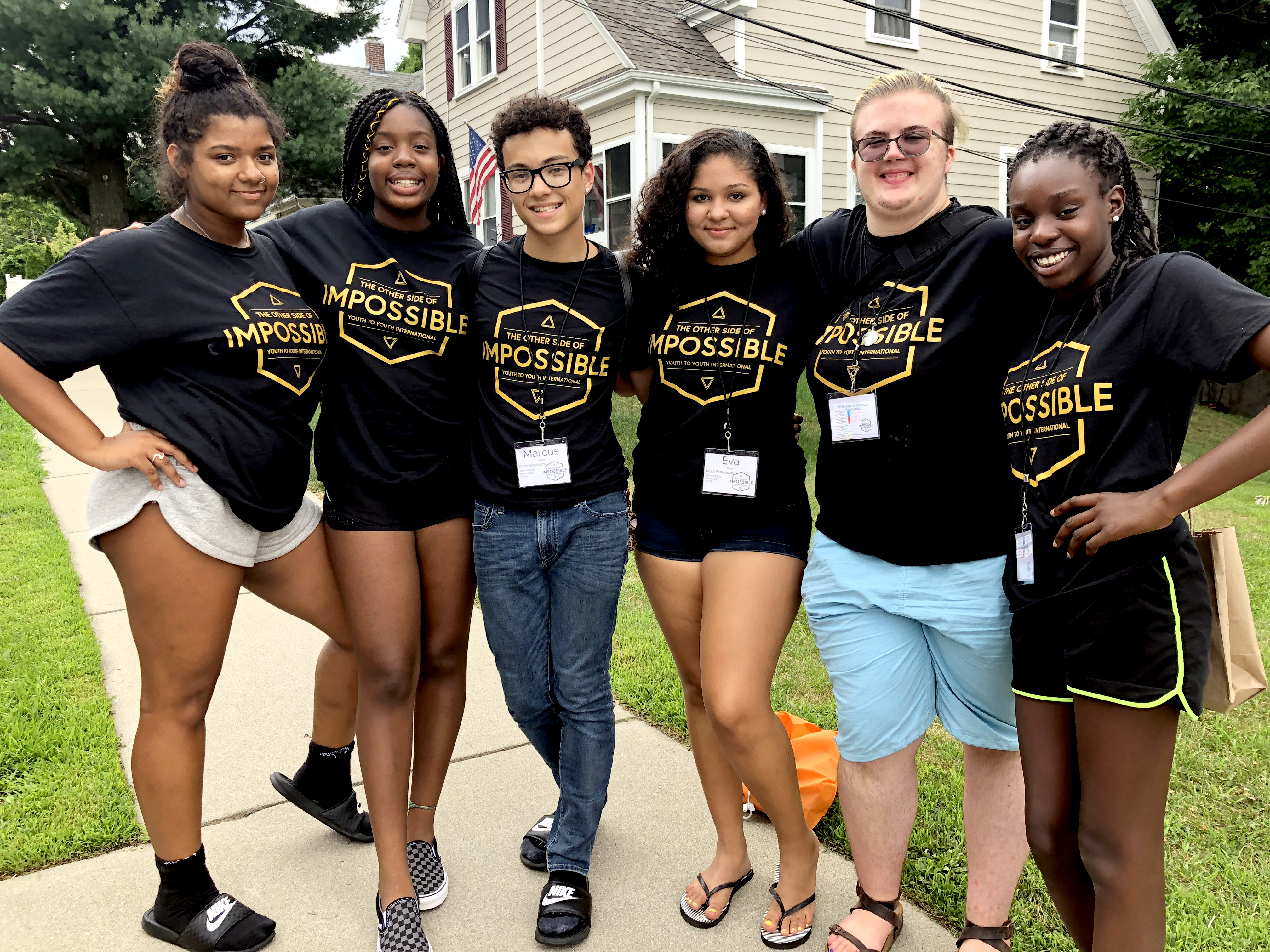 Click here to watch a video about WYC Peer Leaders expectations and experiences at the conference.
---
On the morning of Thursday, July 29th, six of the Watertown Youth Coalition Peer Leaders assembled and departed for the 2018 Youth to Youth Eastern States Conference, in Smithfield, Rhode Island, for the first time. After stopping for lunch, we arrived on campus at Bryant University, where we would be lodging for the next four days.
When we arrived, the campus was already swarming with people unloading vans and buses and shuttling luggage to the dorms. After each signing up for four out of roughly thirty workshop options, we were somewhat surprised by the small number of workshops, considering the length of the conference. Since it was our first time attending Youth to Youth, we knew nothing about the schedule or structure of events. We found out that we had been placed in "Family Groups", who we would meet with throughout the conference, and that we would be seeing less of each other than we had anticipated. For the first day and a half of the conference, WYC members tried to stick together during meals, since we were generally split up outside of mealtimes, but the friendly and expanding network of people who surrounded us allowed us to meet and get along with many new people as well.
Though each day had a varying and exciting schedule, the basic structure of the conference can be separated into these categories:
Opening Ceremonies
The opening ceremonies were a loud, music-filled introduction to the conference led by youth staff members. They explained, through a series of videos and jokes, the rules, activities, and history of Youth to Youth, which was started in 1982 in Columbus, Ohio and gained it's Eastern States addition exactly thirty years ago. They introduced the theme of the conference as "The Other Side of Impossible," a message about challenging ourselves to breach the limits that we perceive are placed upon the scope of our actions, both during and after the conference. The founder of Youth to Youth Eastern States was introduced, as well as the conference organizer, and the youth and adult staff members in charge of "Family Groups".
Family Groups
Family Groups are breakout groups of approximately fifteen people, selected from the entire pool of participants before the conference began, with one adult participant, and an adult and youth staff member to help facilitate. All of us from Watertown Youth Coalition had been placed in different family groups, which had initially caused some discomfort that we would be splitting up so soon. Upon joining our various Family Groups, we were informed by the participants and staff who had been to conference multiple times about the incredible bond that was annually formed by the honest and open discussion and fun activities within the group. After hearing from each speaker during the conference, we broke into our Family Groups again and discussed how we felt and related to their experiences. Family Groups quickly took on their own senses of enthusiasm and pride, which stayed consistent throughout the conference, even as a few people were initially shuffled between groups.
Speakers
Following our introduction to our Family Groups, we were directed back to the auditorium for the first in a series of three speakers at the conference. The message of the conference, to reach "the other side of impossible," was strongly felt in the candid and personal message of Heather Schultz, who shared her life experiences of failure leading to success, her emotionally complex yet close relationship with her father, and the incredible true story of the complicated premature birth of her daughter, Liberty. Walking back to the dorms afterwards, Peer Leaders shared our surprise and reactions to the suspense of the story of Liberty's birth and that Heather Schultz had shown the audience the same tiny stuffed Beanie Baby that had been larger than baby Liberty.
On the second day, we heard from punk rock artist Davey Muise, who opened with a story about a police raid of a high-profile criminal party in Southie in the 1980's. He explained that after everyone had run off or been arrested, the police chief in charge of the raid couldn't shake his gut feeling that there was something else he had to find before they could leave the house. Upon searching the house, the police found a baby in a bedroom drawer with a cut on its wrist from the drawer being slammed shut. The crowd seemed to be absolutely still and silent as Davey Muise said that he still has that scar. He went on to explain how his life went from there, after being rushed to the hospital and eventually being adopted by another family. He talked about not fitting in as a child and being introduced to skateboarding and punk rock music, and following his dreams of trying to get to "the other side of the fence" that separates fans and performers at punk rock festivals. Davey Muise's account of his life during and after high school continues to demonstrate the theme of coming back from what we consider to be rock bottom, and reaching what other people might tell us is impossible. We were very captivated by his story and were all shocked at his opening about the baby in the drawer. Personally, I really liked how he talked about not ignoring the importance of gut feelings and how other people's gut feelings significantly impacted the more synchronistic moments of his life.
The speaker on the third day of the conference was energetic, fast-talking comedian, Shaun Derik. The audience was very surprised when he asked everyone to stand up and play a crowd-wide rapid-fire parody game of Simon Says, before launching into a story about the small children in his family being self-conscious about dancing at a birthday party. Shaun Derik emphasized that we shouldn't be embarrassed about dancing because it's a form of self-expression and invited audience members on stage for a small dance contest. He also shared several stories from his childhood about learning to play piano, navigating school, and never really feeling like he fit into any of the boxes that other people thought he fit into. Shaun Derik closed by talking about the underlying nature of the word "con-vince" and how Oprah Winfrey was told that she had to change so much of herself before she could become famous, and how she refused and became famous anyway. The audience seemed much more upbeat and excited during Shaun Derik's show, especially when he demonstrated how to moonwalk. Overall, we enjoyed listening to all three of the speakers. Peer Leader Eva Henry said, "I would want to bring back one of the speakers to Watertown High School. They were all able to capture the audience in ways I had never experienced before."
One Time Events
Team Building on the first day was a Mission Impossible style challenge for each Family Group to complete by following a series of ciphers and clues in order to locate a fugitive hacker. The fugitive was allegedly guilty of stealing "Warm Fuzzies", the conference's unique system of kind notes that people could write to each other, from the Warm Fuzzy Boards where people could pick them up. To make things more challenging during the hunt for the fugatives, two members of the group had to remain silent and two members of the group had to stand with their hands behind their backs. The groups met up in the gym towards the end of the hunt to form a "car" with five cardboard circles and a tarp, which was also used as a group umbrella while we moved between buildings in the pouring rain on the first day.
The Staff Skits were an abstract, hour long series of comedy sketches, songs, and sketches with a drug-free or social justice oriented message. Some of the skits performed throughout the conference were parodying or inspired by sketches from Saturday Night Live, according to a youth staff member who I had asked about some of the skits.
Evening Events
Jump Into Impossible Fun Event (aka Pool Night) was the first of the conference's fun nightly activities. Participants had the options of swimming in Bryant University's large indoor pool, playing ping pong or basketball, and eating popcorn and other snacks inside. The outdoor sports consisted of volleyball, ultimate frisbee, octoball, and the highly-popular giant game of four square (played with a yoga ball).
Mission Possible Fun Event was set up in a field filled with outdoor activities, loud music, and the infamous "walking tacos." A massive, flying-saucer-shaped inflatable dome served as a spacious laser tag arena with a lengthy line. One of the staff members bravely sat in the dunk tank, with excited onlookers waiting, next to a two lane inflatable slip 'n slide. Other activities included a bungee jumping rig, octoball, volleyball, ultimate frisbee, giant connect 4 and giant Jenga.
The Bright Side Dance was the one thing most people had packed specific outfits for. Everyone was dressed in white or neon colors, many participants had glow sticks in their hair and face paint, all of which glowed nicely on the dance floor in the middle of the dark three-story rotunda. With snow cones, candy, loud music, a partially-undiscovered photo booth, and a lot of dancing, the last night of the conference was definitely one of the best.
Workshops
We could pick two workshops for Friday, the second day of the conference, and two for Saturday, the third day of conference. We walked around to different workshop instructors and signed up for each session, with popular workshops like "Escape the Vape Room" (a vape fact themed escape room) and "Thrift Shop" (a workshop promoting inclusivity and intersectionality) filling up faster than others. Though we were advised to each attend different workshops, most of us went to both sessions of "To Lead Not To Lead", where the instructors explained the qualities of a real leader versus the stereotypical qualities that are associated with good leadership. We were separated into small groups to experiment with the challenges of leadership and conveying information in activities like unwinding our small groups as human knots. Other workshops that Peer Leaders enjoyed (and had slightly less clever names) included workshops on turning issues into public policy, facts about various types of drugs, self-care, and "Don't Be A Bully, Be a Buddy" about different types of bullying and stereotyping and how to identify and help people who are being bullied and excluded. Peer Leaders' reactions to the workshops were overwhelmingly positive, with Eva commenting, "The conference was definitely able to confirm we need to create safe environments in our communities. We shouldn't be hurting people just because they're different or making assumptions based on only what we see."
Closing Ceremonies
The Closing Ceremonies had more skits, loud music, and singing, all catered to address the realization that all of us would be leaving afterwards. The final piece of the ceremonies was delivered by a group of indigenous youth from South Dakota called the Natural Helpers, who explained that in their culture they don't say goodbye, only "see you later," a very poetic ending point for the tear-filled end of the conference.
Peer Leader Response
When we came to Youth to Youth, none of us really knew what to expect, and we were uncomfortable with the idea of being split up into Family Groups. In the time between Opening and Closing Ceremonies, which was spent with Family Groups and in workshops and events with many of the other 600 conference participants, it seemed like everyone at the conference seemed to come at least a little ways out of their shells. Many people's "impossible" goals for themselves involved making new friends when they didn't think they would. Eva commented, "The most interesting thing I learned actually had to do with an internal discovery. I was actually able to learn that I'm not as shy as I think I am and that I can branch out and make new friendships easier than I thought." Many of us cried at the end when we finally left our Family Groups and newfound friends, but it wasn't necessarily saying goodbye. Family Groups exchanged social media and many Peer Leaders were virtually chatting with their new friends on the way back home. Eva summarized the conference, "I think the best part of the conference was getting to meet so many new amazing people." And we did meet amazing new people, even when we hadn't expected that we would. Even when none of us expected to come out the other side of impossible.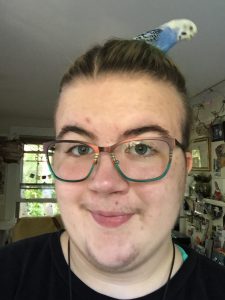 ---
Phen Sarles is a WYC Peer Leader and a rising senior at Watertown High School. He is interning with WYC and Wayside Multi this summer thanks to Watertown Community Foundation's summer internship program.